Spoiler Alert!
Guest Characters: Jake, Lupe, The Ron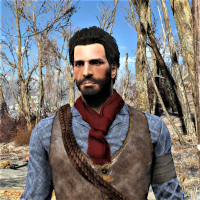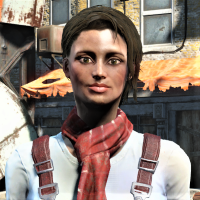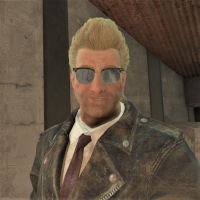 Written by: Richard (Sirick) Griffiths
Voiced by:
Jake - Tom Schalk
Lupe - Lindsey Vega
The Ron - Cyrus Rodas
Speak to Jake
Jake tells you to recruit some allies
Jake asks you to escort Lupe to The Ron
Escort Lupe to The Ron's
Talk to The Ron
Lupe asks The Ron for information
If you select a dialogue option for more information, and pass the charisma check, The Ron will also give you a holotape called "Gunner Dossiers"
Lupe remains with the Ron
Your quest log will now have optional objectives to recruit your allies:
(Optional) Recruit your allies and options to recruit available Factions which appear in your quest journal like:
(Optional) Request help from "Faction" for the attack on Gunners Plaza
(Optional) Earn the trust of the "Faction" - This means you will need to do that Factions quests to earn their trust
Once you have recruited all of the allies you wish, return to Concord Hardware
Read the note on the Ham Radio - "Ready When You Are"
Activate the Ham Radio to send signal to Jake and Aiden when ready to proceed
You can select either option for "Are you ready to proceed?"
a. No I Need More Time
b. Yes, I'm Finished Recruiting
Jake will contact you when every one is ready on his radio frequency. (48 in game hours)
Next Quest: End of the Beginning
If you take Lupe with you to recruit allies before you go to The Ron, she has additional dialogue
Factions that are possible to recruit:
Brotherhood of Steel
Commonwealth Police Department
Institute
MinuteMen
Nightingales
Railroad
You will only get the optional recruit your allies quests for Factions that you have progressed their questlines far enough to be eligible.
Minimal Support (Ally):
BOS: Player has Knight Rank, which occurs when you first talk to Maxson (Shadow of Steel)
CPD: You are a detective (CPD Detective Badge obtained during Continuing Professional Development talking to Simon)
Institute: Agree to help when you talk to Father (Mankind Redefined)
Minutemen: You're the General (The First Step completed and accepted being the General)
Nightingales: Sunken Treasure completed
Railroad: Joined the Railroad (Tradecraft)
Support (Friend):
BOS: Player has Paladin Rank (Blind Betrayal)
CPD: BATDFL taken (Conquering Provincial Dwelling completed)
Institute: Institute generator is online (Powering Up)
Minutemen: Castle Taken (Old Guns)
Nightingales: Mass Bay Medical taken (Calling ER completed)
Railroad: Ready to take on the Institute (Underground Undercover)
Most Support:
BOS: Player has Sentinel Rank (A New Dawn)
CPD: Quests completed (Catastrophe Prevention Drive completed successfully), Bounty Missions not required
Institute: Player is Institute Director (Nuclear Family)
Minutemen: Castle Defended (Defend the Castle)
Nightingales: Finished Quests (Angel of Mercy completed)
Railroad: Institute destroyed (The Nuclear Option)