SPOILER ALERT!
Guest Character: Lena Forseti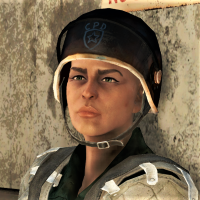 Written by: NDCowdy
Voiced by: Amanda Hufford
Meet Lena near BADTFL.
Clear raiders outside BADTFL.
Talk to Lena.
Chose to assist Lena with taking out the raiders inside, or clear them on your own.
Talk to Lena to complete quest.
Next Quest: Critical Perpetrator Development *starts in 48 in game hours
When this quest completes, Continued Professional Development will also complete.
About Lena Forseti
You can continue returning to Lena to hand in Gunner Tattoos for bounties, until Catastrophe Prevention Drive starts. Then, if you sided with Simon during Critical Perpetrator Development, she will no longer accept them.
Once you speak to Lena at BADTFL, if you fail to assist by either aiding her or clearing out the raiders yourself or if she dies, the quest will fail. This will set the CPD as an enemy faction and fail any of their quests that you have currently in progress.
Possible Issues re Eddie Winter Holotapes:
After the CPD questlines take over a location with an Eddie Winter Holotape, the quest tape will be moved to the CPD location, previously these were copies which would not trigger the vanilla companion quest for Nick Valentine A Long Time Coming to advance.
This fix may only work on new saves. Existing saves will want to use the intercom outside the door of the cell they are in to swap back to the vanilla door temporarily while they retrieve the quest-item version of the tape. As of Sim Settlements 2, Release 2.3.2
Coming Soon
| Stage # | Notes |
| --- | --- |
| 1 | Quest Started |
| 2 | Startup Complete |
| 5 | Setup solo HQ Raid |
| 10 | Setup team HQ Raid |
| 11 | Outside raider dead |
| 13 | Lena heads to BADTFL |
| 14 | Lena Arrives outside BADTFL |
| 15 | PC meets Lena outside BADTFL |
| 17 | Lena greeted PC outside BADTFL |
| 20 | Lena Heads into BADTFL |
| 25 | PC took too long to follow Lena in. |
| 26 | PC found Lena dead. |
| 30 | PC Follows Lena into BADTFL |
| 40 | Raider Boss killed |
| 50 | BADTFL Cleared with Lena |
| 60 | BADTFL Cleared Solo |
| 100 | HQ Raid Quest Complete |
---