Spoiler Alert!
Please Note! THIS IS A DRAFT AND NEEDS CLEANUP: Please note that the information on this page is currently under construction and thus incomplete.
Quest Characters: Gunner 1, Gunner 2, The Ron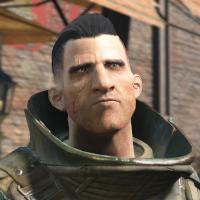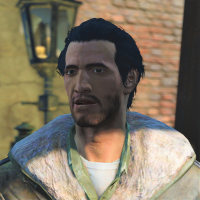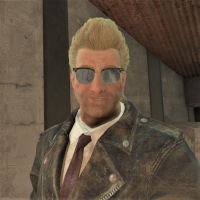 Written by: Sirick
Voiced by:
Gunner 1 - Jeff Wong
Gunner 2 - Sirick
The Ron - Cyrus Rodas
Go to Diamond City. (If you haven't been to the city before, talk to Piper at the entrance to gain access.)
Go to Diamond City Market and walk north past the farm to find a building with two gunners outside. Get through a brief dialogue.
Enter The Ron's Office and sit down opposite "The Ron" to start a dialogue.
a. During your conversation, you may be able to find out some more information about Jake.
b. If you have high Charisma, you can try to negotiate a lower fee for information.
The Ron tells you about a vigor tester and tells you to seek it out at Vault 81.
He also gives you two leads to find able settlers.
Next Quest: Vim and Vigor
a. Follow the quest marker to a cave, Fungus Farm.
b. Speak to Alex Powell.
Next Quest: It Came From Planet-X!
a. Follow your quest marker to Good Neighbour. Anton can be found in The Third Rail.
b. He asks you to help him find his sister who has fallen in with raiders.
c. He has tracked them to the HarborMaster Hotel.
Next Quest: Grey Matters
The quests to find able settlers will appear in your Pip-Boy under Quests, Miscellaneous and can be done when you are ready to recruit.
The Sims Settlements 2 Story is integrated with the Fallout 4 Main Vanilla Story Quests, (like Jewel of the Commonwealth and Unlikely Valentine) so as you encounter these quests, accept and complete them.
More about Jake Evans, Gunner 1 and Gunner 2
| Stage | Description | Log Entry |
| --- | --- | --- |
| 1 | Quest Start | |
| 2 | Quest Running | |
| 10 | Gunner convo | |
| 20 | Player close to Berman, trigger scene | |
| 21 | Player pickpocketed Berman | |
| 30 | Berman scene complete | |
| 50 | Player told to sit | |
| 60 | Player has sat down | |
| 61 | Player asked if sent by Jake | |
| 62 | Player said X or Y at PC3 | |
| 64 | Confirmed Jake's Parter | |
| 65 | Offered Vitomatic Location | |
| 66 | Negotiated to 250 | |
| 67 | Negotiated to 200 | |
| 68 | Perk Bypass | |
| 69 | Paid | |
| 70 | Player given vitomatic folder | |
| 80 | Start 3 side quests | |
| 81 | Asked about V81 | |
| 100 | Finished conversation | |