Spoiler Alert!
Please note that the information on this page is currently under construction and thus incomplete.
Quest Characters: Cedric Mansfield, Katlin Paris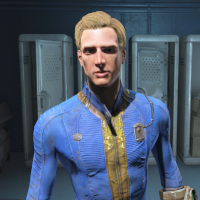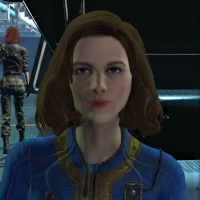 Written by: Sirick
Voiced by:
Cedric Mansfield - Uncaged Elk
Katlin Paris - Kerstyn Unger
Claudia Mansfield - Beebscalior
Go to Vault 81 and activate the mechanism.
You will be asked to provide 3 fusion cores to gain access to the vault.
You may be able to talk your way around this, depending on your character.
Enter the vault and talk to Overseer McNamara.
Talk to the Deputy Overseer, Cedric Mansfield. Show him the schematics.
He will agree to give you the Vit-o-Matic if you complete some services for the vault.
a. Provide oil for Old Rusty, a maintenance robot.
If you have the Local Leader perk, you can bargain to deliver 4 units of oil, otherwise you will need 10
b. Resolve an issue with the vault's water.
Speak to the plumber, Katlin.
c. A third task, if you are successful with the first two.
Help Old Rusty.
a. Go to the Reactor Room to give Old Rusty the oil.
Help Katlin.
a. Speak to Katlin.
b. She will ask you to investigate the reservoir to resolve the water issue.
c. Be careful for hostile insects when getting into the water to clear the reservoir.
d. Activate to clear debris.
e. Return to Katlin.
Speak to Mansfield for the third task. He will send you to find a missing scout.
You can ask him why he cares about this scout. If your character's charisma is high, he will tell you.
Follow the quest marker to look for the scout, defeating or avoiding any opposition.
Get the holotape from the missing scout.
Report back to Mansfield.
After a conversation about the scout, he will say that Dr. Forsythe has been informed you can take the Vit-o-Matic.
Report to Dr. Forsythe, who will ask that you sit in one particular chair so that he can collect blood. If you sit in the wrong chair he will wait for you to pick the chair close to him.
To get the Vit-o-Matic, activate it until it detaches from its mount. (There is no prompt to do so.)
Report to Jake.
Next Quest: New Plots on the Block
Old Rusty is a vanilla character.
Claudia Mansfield is voiced on her holotape only.
If you happen to go to Vault 81 before you have received this quest, both Sim Settlement 2 Unique Characters, Cedric Mansfield and Katlin Paris are present in Vault 81.
You can do Mansfield's quests for Old Rusty, Katlin Paris and finding the scout without having this quest active. You can also start doing the Vault 81 Radiant Quests, once you have completed Mansfield's 3 tasks. Just return to the vault when you have been sent there by the Ron to complete this quest.
Claudia's "stash", mentioned in her holotape, has not been implemented in game.
If you loot "Gunner Orders" from the gunners who attacked Claudia, you can hand them in to Cedric the next time you return to Vault 81.
Reported Difficulties:
Some players encounter difficulties completing Mansfield's quests if they have completed the vanilla quest "A Hole in the Wall" (To avoid this issue, complete Mansfield's missions before completing "Hole in the Wall".)
If you want to avoid triggering "Hole in the Wall":
a. Go to the vault early in the day. ("Hole in the Wall" can be triggered after 24 hours from entering Vault 81, so complete Mansfield's tasks before that time is up.)
b. You can clear the water problem before going to the vault.
b. Have the oil with you when you go to the vault.
c. Complete the third task right away, and return directly.
e. Avoid sending the cat home for the vanilla "Here Kitty Kitty" quest.
Claudia Mansfield:
a. Some players report having trouble finding the scout, Claudia Mansfield. She is sometimes down under the water, or under the dock (You can try console command "tcl" to look underneath the surface of things to find her.)
b. Some players report that Claudia Mansfield has no clothes. There have been multiple attempts at fixing this issue. It is unknown why some players still experience this issue.
| Stage | Description | Log Entry |
| --- | --- | --- |
| 1 | Quest Start | |
| 2 | Quest Running | |
| 5 | Ron told to visit Vault 81 | |
| 10 | Intro done | |
| 20 | Player asked about Vit-o-Matic | |
| 29 | Rusty 4 Oil | |
| 30 | Knows Job | |
| 40 | Robotics Expert | |
| 50 | Rusty Repaired / Oiled | |
| 55 | Katlin Greeted | |
| 56 | Katlin told more about obstruction | |
| 57 | Obstruction Activated | |
| 60 | Pipe Cleared | |
| 70 | Katlin Gave Reward | |
| 80 | Mansfield Knows Rusty Katlin | |
| 90 | Player knows Patrol | |
| 100 | Player knows Sister | |
| 110 | Player has been asked to find | |
| 120 | Player Accepted Quest To find | |
| 150 | Claudia holotape found | |
| 160 | Claudia Told Dead | |
| 170 | Vit-0-Matic Permisson | |
| 180 | Player has Vit-o-Matic | |
| 190 | Jake asks about Ron | |
| 195 | Player hands Jake vitomatic | |
| 200 | Jake has used Vit-o-Matic | |
| 210 | Quest Complete | |
| 220 | Start MQ10 | |