SPOILER ALERT!
Guest Characters: Circe, Lydia Proudmore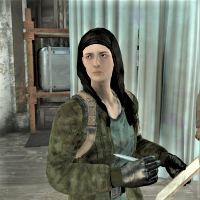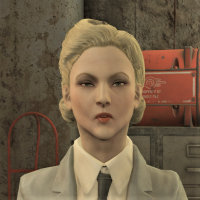 Written by: Cynical_Bounce
Voiced by:
Circe - Elissa Park
Lydia Proudmore - Brandy Fisher
Travel to the quest marker for the meeting.
Speak to Circe about the meeting.
Enter the "Riverside Warehouse".
Listen to Circe discuss the proposed contract with Lydia Proudmore.
Talk to Circe.
a. Decide it's a bad deal
b. Decide it's a good deal
c. Choose to talk to Lydia
If you have chosen to talk further with Lydia,
a. Ask for more information about Lydia and the proposed contract.
b. Tell Circe your decision.
Circe asks to join one of your settlements.
a. Accept her and pick a settlement for her.
b. Refuse.
Next Quest: Angel of Mercy
If you completed Calling ER by convincing the gunners to receive treatment, Circe will have an escort of 2 gunners with her.
About Lydia Proudmore
Circe is a Unique Settler.
Issue: (30-Jan-2022) This location is also used by the mod, Tales of the Commonwealth as the "Robot Clinic". Using the City Manager Holotape Hijack or the door bell does not work to resolve this issue.
To resolve, move your cursor to the bottom of the door and find the door to the "Riverside Warehouse", or if that does not work for you, there are two patches available: SS2C2 - 3DNPC Patch and Sim Settlements 2 Chapter 2 - TFTC - Warehouse Door Patch (for Existing Games)
Coming Soon
| Stage # | Notes |
| --- | --- |
| 1 | Quest starting |
| 2 | Quest running |
| 10 | Circe greeted |
| 15 | Circe talks about NLTC |
| 20 | Player ready to advance, Circe approaches door |
| 30 | Door unlocks |
| 32 | Teleport Circe Inside |
| 40 | Lydia and Circe deal scene |
| 50 | Circe wants to speak to player |
| 60 | Circe asks what to do |
| 62 | Player asks 'Other Options' |
| 65 | Player donates 3000 caps |
| 70 | Player speaks to Lydia |
| 72 | Player asks about angle once |
| 74 | Player asks about trust once |
| 80 | Player accepts deal |
| 90 | Player rejects deal |
| 95 | Lydia is dead |
| 100 | Lydia leaves, Circe recruit talk |
| 102 | Player says they're trouble |
| 110 | Circe recruited as settler |
| 11 | Circe to door |
| 115 | Disable Lydia |
| 116 | Disable LydiaGuard01 |
| 117 | Disable LydiaGuard02 |
| 118 | Disable LydiaGuard03 |
| 119 | Teleport Circe |
| 120 | Circe not recruited as settler |
| 200 | Quest ends, NQ05 begins |