Spoiler Alert!
Quest Character: Jake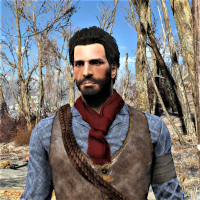 Written by: Richard (Sirick) Griffiths
Voiced by:
Jake - Tom Schalk
Talk to the Stranger, who will introduce himself as Jake Evans. He suggests partnering up to obtain some technology that will improve the ASAMS.
He will ask you to assist with plundering an enemy stronghold and suggests some other options.
a. Speak to some farmers for more information (optional)
b. Locate his hidden cache of supplies (optional)
Your main objective is at USAF Satellite Station Olivia.
Both of the optional requests, are on the way to that location.
Speak to some farmers (optional) - If you have not already completed "Returning the Favor" given by Blake Abernathy, you can speak to him and accept that quest. If you have completed it already, this option will not be available.
Lead Jake to his hidden cache (optional) - On the way, you will likely encounter some random enemies. Jake will share some of those supplies with you.
When you get close to Olivia Station, Jake will hang back and ask you to go ahead.
Kill the raiders and their tame mole rats outside the stronghold.
Once that is completed, Jake will join you.
Enter the basement of the stronghold.
Jake will examine a terminal in the first big room and will tell you to kill the raiders without his help.
Kill the raiders.
The battle leads you deep into the stronghold. If you have "Returning the Favor", look for an orange toolbox in front of a locked blue door.
Investigate it for quest items related to "Returning the Favor."
Your Pip-Boy will tell to return to assist Jake, and you may have to kill a few more raiders before you can talk to him.
Jake will open a door to a treasure room and invite you to loot it.
Jake will resolve to transport some of the treasure without you.
He suggests that you look for more ASAMS at West Everett Estates, but warns that there are super mutants in the area. (A Miscellaneous quest called "Check for ASAM Sensors at West Everett Estates" will appear in your Pip-Boy.)
You are free to wander away and do other quests, such as completing "Returning the Favor" for the Abernathy family.
Next Quests:
Well Well Well!
Miscellaneous Quest: Check for ASAMS (optional)
More about Jake Evans
At USAF Satellite Station Olivia, in the room with the Comm Hub, you can find a note: Hub Note.
Sim Settlements 2: Scavver's Delight by Veta Phoenix
| Stage | Description | Log Entry |
| --- | --- | --- |
| 1 | Quest Start | |
| 2 | Quest Running | |
| 10 | Player Walked Intro | |
| 15 | Player asked about ASAM equipment | |
| 19 | Suggested Abernathy Farm | |
| 20 | Jake Join Olivia | |
| 25 | Player reaches cache | |
| 30 | Jake Cache Helmet | |
| 31 | Jakes hands player items | |
| 35 | Reached Olivia | |
| 36 | Show kill raiders objective | |
| 40 | Raiders Outside Dead | |
| 49 | Heading into Olivia | |
| 55 | Arrived in Olivia | |
| 60 | Jake suggests player takes out raiders | |
| 65 | Raiders inside dead | |
| 68 | Player close to shootout | |
| 69 | Shootout Over | |
| 70 | Jake Shot | |
| 80 | Jake Asked for Stimpak | |
| 85 | Player gave stimpak | |
| 90 | Jake Cured | |
| 100 | Jake "Mighty Impressive" | |
| 105 | Open door | |
| 110 | Jake at Comm Hub | |
| 115 | Mentions West Everett | |
| 120 | Quest Complete | |