Spoiler Alert!
Quest Character: The Ron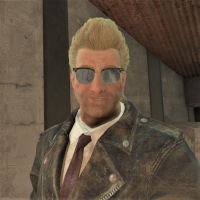 Written by: Sirick
Voiced by: Cyrus Rodas
After you complete the quests found by following the two leads The Ron gave you to recruit able settlers (It Came From Planet-X! and Grey Matters), a message will pop up and tell you that The Ron will be able to provide you with additional leads for more settlers to recruit for your settlements.
Visit The Ron's Office in Diamond City.
The Ron will welcome you to The Ron's Information Emporium.
Ask him about the store.
You can then select an option:
a. Looking for work - The Ron will offer you a job opportunity to retrieve something for him. This option will begin "Knowledge Equals Profit". He will give you a job and a location.
b. Pay 500 caps for a lead for a Unique Settler. In your Quests, this appears as "Track People" and provides a quest marker called "Potential Recruits".
Once the quest(s) given is (are) completed, you can return to The Ron for additional jobs and leads to find more settlers.
Knowledge Equals Profit is a radiant (repeatable) quest that will send you to random locations.
Potential Recruits will provide you with a location to find a new Unique Settler that you haven't encountered yet.

The Ron will only be able to give you leads for "able" settlers if you have met the requirements for them. There is no wait time period.
There is no "quest" for finding the unique settlers that The Ron gives you. These are like tracking the owners or settlers assigned to plots and only apply a quest marker on the NPC for you to find them.

About The Ron.
| Stage | Description | Log Entry |
| --- | --- | --- |
| 1 | Quest started | |
| 10 | Item found | |