SPOILER ALERT!
Guest Character: Jerred Lund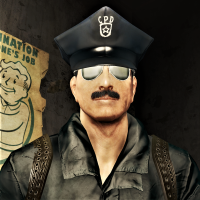 Written by: NDCowdy
Jerred Lund - PawPaw Greg Gidney
Go to the East Boston Police Station.
Kill the scavengers in the area.
Find and access the BPD Protectron Stash Terminal.
You will find that there is no power available to activate the stash.
Find a way to route power to the stash terminal.
Find, open and activate the Fuse Box. It isn't functioning, you'll need to find 2 fuses to fix it.
Find fuses in the Large Toolbox.
Activate the open Fuse Box again, and use 2 fuses to fix it.
Return to the BPD Stash Terminal.
Select Power Up, then Activate.
Return to Jerred.
Next Quest: Continued Professional Development
Coming Soon
| Stage # | Notes |
| --- | --- |
| 1 | Quest Started |
| 2 | Startup Complete |
| 10 | Setup |
| 20 | Scavenger Boss killed |
| 30 | PC attempts to access the stash terminal unpowered. |
| 40 | PC attempts to access the fuse box unpowered. |
| 45 | Used Fuses |
| 50 | Power restored to Stash |
| 60 | PC activates the generator. |
| 70 | Stash activated |
| 100 | Quest Completed |
---