Spoiler Alert!
Quest Characters: Old Paul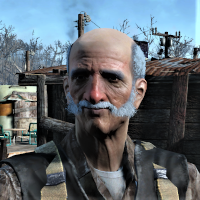 Written by: superweevil
Voiced by:
Old Paul - Greg Gidney
At some point, Old Paul will ask you to check in on a friend of his.
Check on Amos.
Approaching Amos' cabin, you will encounter some raiders.
Deal with them and look for Amos.
You will hear some whimpering from the shed.
On opening the shed, you will find an injured dog.
You can opt to help the dog.
Return to Old Paul with the bad news.
If you have chosen to help the dog, Old Paul will ask you to leave the dog with him and suggests that you provide him with canned dog food or meat for the dog.
To open the shed, there is a key in Amos' inventory.
Old Paul will often ask for canned dog food or meat when he sees you after this quest has been completed.
This quest unlocks a pet for the Commercial Pet Store
View more information about Old Paul
Let Sleeping Dogs Lie - Veta Phoenix
| Stage | Description | Log Entry |
| --- | --- | --- |
| 1 | Quest Started | |
| 2 | Quest Running | |
| 10 | Paul spoken to | |
| 20 | Player agree to help Paul | |
| 30 | Player close to Amos | |
| 50 | Raiders defeated | |
| 60 | Interacted with dog | |
| 65 | Trigger petting | |
| 70 | Cola scene played | |
| 75 | Cola not picked up | |
| 80 | Cola Picked up | |
| 85 | Paul return scene started | |
| 90 | Paul told friend is dead | |
| 95 | Paul pet cola | |
| 100 | Quest Complete | |