Spoiler Alert!
Please note that the information on this page is currently under construction and thus incomplete.
Quest Character: Katherine Drake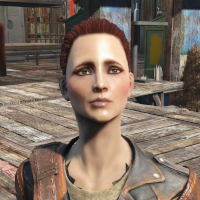 Written by: ZeroDivision
Voiced by: JoJo
Katherine will approach you in one of your settlements and ask for a place to settle down.
Select a settlement for her.
When you go to that settlement, assign her a home or place a residential plot for her.
After she is settled in, she will approach you again with an idea.
Place a 2x2 industrial plot and assign her to it.
Wait for her to build, then check in with her.
She asks that you check in with her again later.
Next Quest: Scrappin'
Katherine Drake is a Unique Settler.
The quest rewards a new industrial plot plan.
| Stage | Description | Log Entry |
| --- | --- | --- |
| 1 | Started | |
| 2 | Verified running | |
| 5 | Initially declined | |
| 8 | Talked about home | |
| 10 | Accepted | |
| 20 | Assigned to Industrial Plot | |
| 30 | Finished construction | |
| 40 | Turned In | |