Spoiler Alert!
Quest Character: Katherine Drake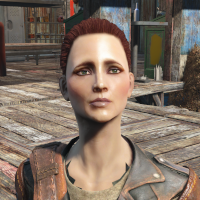 Written by: Zerodivision
Voiced by: JoJo
To initiate Scappin', check in with Katherine Drake.
She tell you about her idea, gathering junk for salvage and that scouts have found a location that is dangerous and send you out to clear the area and collect the junk.
For the Radiant Quests (repeatible):
a. Retrieve the scrap from a random location.
b. Collect the "Crate of Junk" from a container.
c. Return the "Crate of Junk" to Katherine.
d. Katherine will sift through the junk and return to you a number of material components.
e. She will ask if you want to go out again for more salvage.
| Stage | Description | Log Entry |
| --- | --- | --- |
| 1 | Quest started | |
| 2 | Quest verified running | |
| 10 | Player given objective | |
| 20 | Player has item | |
| 30 | Turned in item | |
| 40 | Quest completed | |