¶ Pollution, Hygiene, and Cleanliness
Pollution is a measure of the amount of toxins the settlement is creating. It's just a single value, but from an immersive view, represents things like human waste, radiation, smog, or anything else that could negatively affect people's health in the settlement.
The opposite of Pollution, is Hygiene. This represents things the settlement does to counteract pollution, such as plumbing, laundry, and waste management.
Since the two are opposites, their ratings are combined into a new meter that measures Cleanliness.
A new bar has been added to the Status bar, to show settlement Cleanliness.
It will not appear until after you've unlocked the Sanitation class.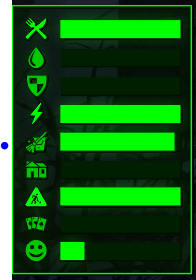 Each settler by default, generates 50 points of pollution. So as more people move into a settlement, it's Cleanliness rating will go down. In addition, certain building plans will produce pollution.
This replaces the happiness penalties used prior for those building types. Pollution produced will appear in the Info Box HUD piece, and will likely be added to the ASAM Sensor's View Details screen in a future update.
¶ Sickness, Diseases, and Outbreaks
As Cleanliness goes down, the chance of a disease outbreak occurring goes up. When an outbreak occurs, a random number of settlers will contract some sort of disease, and that disease has a chance of spreading every day.
Diseases each have different impacts on the stats of the settler, and they spread at different rates. Each day an outbreak remains, it has a chance to spread to more settlers, depending on the transmission rate. You will know a settler has a disease because they will begin to play different animations as you approach them.
A settler's Sickness rating is a combined total of all of their disease severities, so if a disease applies a -1 to Charisma, that disease is said to have a severity of 1. If a settler has 3 different diseases with a severity of 1, they would have a total Sickness rating of 3.
A settler's Sickness rating is multiplied by 10, and added to the settlement's Pollution score, thus reducing cleanliness, and increasing the likelihood of further disease spread and outbreaks.
Diseases range in severity from 1 to 10. To prevent this system from randomly overwhelming a player's game and gradually increase in difficulty, an outbreak will never choose from a disease more than 1 severity higher than the highest ever severity outbreak that has occurred in that settlement. This is easier understood with examples:
Examples:
If a settlement has never had an outbreak, then the highest severity outbreak is considered 0 there. Which means if an outbreak is triggered, it will be of severity 1.
Later, if a second outbreak occurs in that settlement, it will randomly select from all diseases of severity 2 or less, because the highest previous outbreak was 1.
Diseases without known cures will no longer be introduced before the player unlocks the Hospital building class. (Sim Settlements 2 Release 2.3.2)
Disease introduction is now capped so that the highest severity disease that can appear from an Outbreak is equal to 5% of the player's entire empire population - rounded down. This means that until the population of all settlements combined reaches 40, only severity 1 diseases can show up; only severity 1 or 2 will show up until reaching 60, etc.
This should greatly reduce the timeline within a playthrough that more advanced diseases appear in player's settlements.
Settlers can also recover from minor diseases on their own.
You can cure known diseases with a Disease Cure by giving it to Settlers.
Note: Unique Settlers can get diseases, but cannot die from a disease.
Commonwealth doctors (like Dr. Sun in Diamond City) will have Disease Cures available for barter. This will cure all known diseases with known cures from any settler you trade it to.
By default, most of the starter diseases are covered by this so the player will have a means of manually curing an outbreak in the early game.
You can craft Disease Cures at Cooking Stations
Disease Cure Ingredients:
Razorgrain (2)
Purified Water
Gourd
Carrot (3)
Melon
Clinics will increase natural disease recovery time by 20% in the settlement only
Cemetary and Sanitation Plots add Cleanliness to your settlement preventing the spread of disease
increase natual disease recovery by 50% in the surrounding area
work at 70k range (the same area as a caravan would be able to reach)
can instant cure any diseases that Disease Cures currently cover
Example, a level 2 hospital with 2 workers could cure 4 people per day
Disease Cure Research is done by the Science Department at Headquarters to expand the effectiveness of the Disease Cure and give the Hospitals a chance to instantly cure patients with known diseases.
You can customize how you experience diseases in your game by using the City Planner Holotape.
Go to Options>Gameplay>Disease
When ON, settlers can become infected with diseases which will impact their stats.
When ON, and you have Disease Cures in your inventory, an alternate activation will come up to administr them to diseased settlers
Depending on what other mods you have installed, this may create a conflict, so this option can be turned off.
You always have the option of trading a Disease Cure to a settler to allow them to use it as well.
When ON, settlers whose sickness level exceeds their Endurance have a chance to die each day. The higher the sickness level over Endurance, the greater the chance of death.
When ON, settlers whose sickness level exceeds their Endurance will become incapacitated and unable to work until some of the diseases are cured.
---
| Name | SS2 Effect | Severity | Transmission Rate | Danger | Starts Researched? |
| --- | --- | --- | --- | --- | --- |
| Blood Worms | -1 Endurance | 1 | 1 | 1 | Y |
| Bone Worms | -1 Strength | 1 | 1 | 1 | Y |
| Jelly Fingers | -1 Agility | 1 | 1 | 1 | Y |
| Molerat Disease | -10 Max HP | 1 | 2 | 2 | |
| Needle Spine | -1 Strength | 1 | 2 | 2 | Y |
| Rad Worms | -1 Perception | 1 | 1 | 1 | Y |
| Buzz Drain | -2 Intelligence | 2 | 2 | 4 | |
| Chicken Pox | -1 Charisma | 2 | 5 | 5 | |
| Flap Limb | -2 Strength | 2 | 2 | 4 | |
| Heat Flashes | -2 Endurance | 2 | 1 | 2 | |
| Influenza | -2 Endurance | 2 | 5 | 10 | |
| Lyme Disease | -2 Strength | 2 | 1 | 2 | |
| Parasites | 2 Extra Food Required | 2 | 1 | 2 | |
| Smallpox | -2 Charisma | 2 | 5 | 10 | |
| Snot Ear | -2 Perception | 2 | 4 | 8 | |
| Swamp Gas | -2 Charisma | 2 | 1 | 2 | |
| Swamp Itch | -2 Agility | 2 | 3 | 6 | |
| Tetanus | -2 Agility | 2 | 2 | 4 | |
| The Woopsies | -2 Luck | 2 | 1 | 2 | |
| Typhus | -1 Intelligence, - 1 Endurance | 2 | 1 | 2 | |
| Anthrax | -3 Intelligence | 3 | 2 | 6 | |
| Cholera | 3 Extra Water Required | 3 | 4 | 12 | |
| Fever Claw | -3 Agility | 3 | 2 | 6 | |
| Lock Joint | -3 Strength | 3 | 1 | 3 | |
| Pneumonia | -3 Endurance | 3 | 4 | 12 | |
| Shell Shock | -3 Perception | 3 | 2 | 6 | |
| Weeping Sores | -3 Charisma | 3 | 4 | 12 | |
| Dysentery | 4 Extra Water Required | 4 | 2 | 8 | |
| Glowing Pustules | -4 Charisma | 4 | 3 | 12 | |
| Rabies | -4 Intelligence | 4 | 1 | 4 | |
| Rattle Hands | -4 Agility | 4 | 1 | 4 | |
| Red Lung | -4 Endurance | 4 | 1 | 4 | |
| Sludge Lung | -4 Endurance | 4 | 3 | 12 | |
| Syphilis | -4 Intelligence - 1 Charisma | 5 | 1 | 5 | |
| Tuberculosis | -5 Endurance | 5 | 2 | 10 | |
| Ebola | -1 to all S.P.E.C.I.A.L. stats. | 7 | 1 | 7 | |
| Sepsis | -1 to all S.P.E.C.I.A.L. stats. | 7 | 1 | 7 | |
| The Blight | -1 to all S.P.E.C.I.A.L. stats. | 7 | 2 | 14 | |
| Black Plague | -2 to all SPECIAL | 10 | 4 | 40 | |
| New Plague | -2 to all SPECIAL | 10 | 5 | 50 | |
---