You can Manage individual Soldiers by approaching them to display their menu.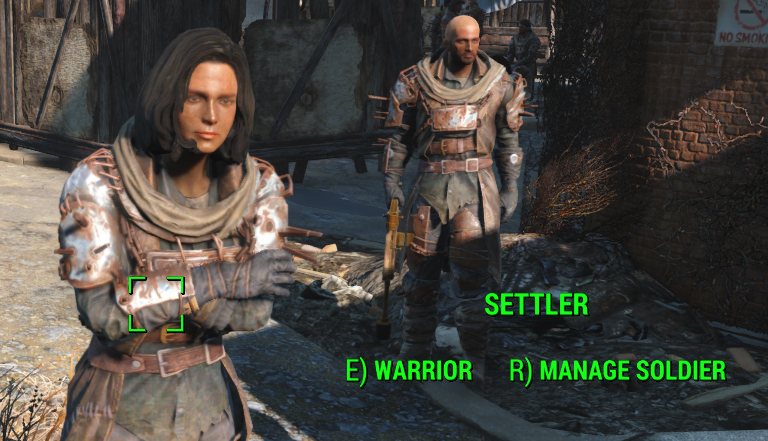 Selecting Warrior will usually give you a random greeting.
Selecting Manage Soldier will display a popup window that provides you information about your Soldier:
The Soldier's Rank Description and Rank
(Next Rank Progress %)
Loadout: Current Loadout
Role: Current Role
Outpost: Their Assigned Outpost
Under that information there will be options: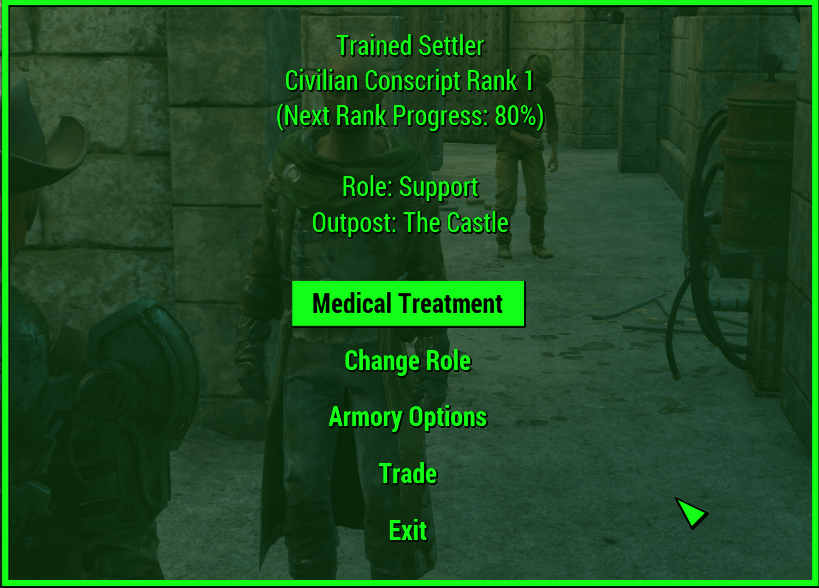 Use this option to treat your Soldier for Injuries or Disesase(s).
It will only appear in the menu selections if the Soldier you have selected has an Injury or Disease(s).
If your Headquarters has researched the Disease(s), then there will not be a cost to the Treatment.
Cost if you haven't resesarch the Disease, will be 1 or more Chems, depending on the severity of the Disease.
There is usually no cost to treat Injuries.
You will be able to select Pay Cost and Treat Patient, or if the Soldier has an Injury and Diseases, you will be able to Treat Both, Treat Injuries or Treat Disease(s).
Cancel
Use this option to change your Soldier's Role to one of the other Roles available:
Cancel
Guard:
Soldiers assign this role can be sent to to guard Settlements or Territories
Patrol:
Soldiers can Patrol from their Outpost to a Settlement or a Territory within range of their Outpost.
Support
Warrior
For each of the options above, you will be prompted to select a Settlement or Territory.
Change Loadout
Use this option to change your Soldier's Loadout.
An Armory Martial plot is required for this option to be effective
Select the Loadout you want for the Soldier from available options.
Note: Loadouts that are for a Soldier of higher Rank may display. You should select a Loadout that matches your Soldier's Rank.
Auto-Equip: ON
This option is by Default set to ON.
If you wish to equip your Soldier with other equipment, set this to OFF.
Exit
Using this will allow you to trade items with your Soldier.