SPOILER ALERT!
Guest Character: Bucky Benton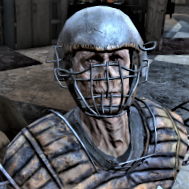 Written by: **
Voiced by: Paul Warren
Bucky Benton will introduce himself and ask to join your settlement.
Some time later, he will ask you to find his Lucky Charm in Goodneighbour.
Investigate the warehouse for clues.
Find a Letter to Charles, read it.
Find clues at Diamond City Security.
Access the terminal.
Look for the scavver.
Loot the scavver to find the Lucky Charm
Return to Bucky:
a. give him his Lucky Charm, or
b. convince him he doesn't need it.