SPOILER ALERT!
Guest Character: Father Edmund Callum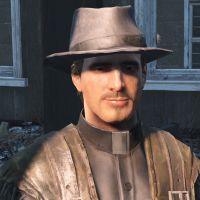 Written by: Joypuke
Voiced by: John Drennan
Greet Father Edmund in the church in Concord.
Have a conversation with him to learn more about him.
He asks you to attend a sermon and maybe speak to his flock
Check the Community Board for notices
Attend a sermon
Most Community Board notices lead to other Concord quests.
When a new Concord Quest is available for you, a new notice will be posted on the Community Board.
About Father Edmund Callum
Talking to Father Edmund unlocks the Cemetary Municipal Plot, however if you have not unlocked Municipal Plots yet, there is no message to tell you that. The unlock notification will occur when you unlock Municipal Plots.