SPOILER ALERT!
Guest Character: Simon Forseti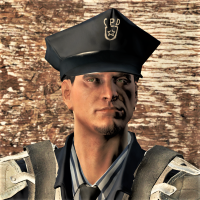 Written by: NDCowdy
Voiced by: Norman Bradley
Ask Simon if you can help.
Read Simon's Book List.
Travel to the Boston Public Library.
(Optional) Ensure the nearby police station, Police Precinct 8, is safe for the CPD
a. Kill the radroaches to clear the station
At the marked library entrance:
a. Pick the lock to enter (Advanced Lockpicking)
b. Activate the Intercom:
- The Intercom will tell you the library is closed. You can say you are an employee.
- Guess the employee id, and gain access to the library.
Find the holotapes and book on Simon's list.
Deal with any hostiles.
Return to CPD HQ.
Talk to Simon. To hand in the holotapes and book, ask if you can help.
He will ask if you have them, then the quest will complete.
Ask if you can help again to get Simon's next assignment.
Next Quest: Court Practitioner Drafting
If you access the library as an employee, the Protectrons will not be hostile.
You can also access the library through the subway entrance.
To continue CPD Quests, select dialogue option "Ask if there is anything I can do to help?"
About Simon Forseti
You can also become a CPD Detective by selecting the dialogue option, "I need your help with something", then "Looking for work"
Coming Soon
| Stage # | Notes |
| --- | --- |
| 1 | Quest Started |
| 2 | Startup Complete |
| 10 | Setup |
| 20 | Tape 1 Found |
| 21 | Tape 1 Read |
| 30 | Tape 2 Found |
| 31 | Tape 2 Read |
| 40 | Tape 3 Found |
| 41 | Tape 3 Read |
| 50 | Tape 4 Found |
| 51 | Tape 4 Read |
| 55 | Useless Tape 01 picked up |
| 56 | Useless Tape 02 picked up |
| 57 | Useless Tape 03 picked up |
| 60 | Book retrieved |
| 70 | All media retrieved |
| 86 | Precinct 8 Radroach01 Dead |
| 87 | Precinct 8 Radroach02 Dead |
| 88 | Precinct 8 Radroach03 Dead |
| 89 | Precinct 8 Radroach04 Dead |
| 90 | Precinct 8 Cleared |
| 100 | Quest Completed |
---