SPOILER ALERT!
Guest Character: Caleb Saunders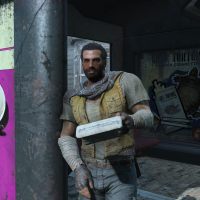 Written by: Sirlach
Voiced by: Ryan Cooper
You will find Caleb standing beside a bus shack in Concord.
He will introduce himself and ask you to met him at his house later
Meet Caleb at his house. You can follow him there
Talk to Caleb
You can decide to assist him, or not
a. If you decide to assist, your Pip-Boy will notify you to talk to Caleb for the next quest
b. If you decide not to, Caleb will give you a lead to find the CPD.
Next Quest: The Hunt for Boris
More about Caleb Saunders
Caleb appears after Memory Lane is completed, or
You will find a notice called "Wanted: Marowski Scum" on the Community Board in Concord's Church
Caleb's next quest will initiate around 4 hours after you talk to him.
Coming Soon
| Stage # | Notes |
| --- | --- |
| 1 | Quest Started |
| 2 | Startup Complete |
| 5 | Caleb to house |
| 10 | Meet Caleb |
| 12 | Tigger meet Caleb objective |
| 15 | At Caleb's House |
| 20 | Offer Denied / Start CPD Act1 Stage 10 |
| 30 | Offer Accepted |
---