Spoiler Alert!
Please note that the information on this page is currently under construction and thus incomplete.
Quest Character: Emily Marcus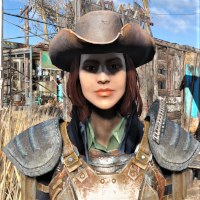 Written by: Apokolypto
Voiced by: Lauren Joy VA
Emily Marcus will appear in your settlement or can be found travelling from settlement to settlement.
She will ask for your assistance. You can decide whether or not to accept.
Clear out the Gunners at a random location.
Return to Emily for a reward.
She will ask to join you.
You can assign her to one of your settlements.
| Stage | Description | Log Entry |
| --- | --- | --- |
| 1 | Quest Start | |
| 2 | Confirmed running | |
| 5 | Rejected | |
| 9 | Passed Charisma check | |
| 10 | Accepted | |
| 20 | Gunners dead | |
| 25 | Player decided not to do it | |
| 29 | Give reward | |
| 30 | Turn in | |
| 40 | Emily unloaded/changed to MM gear - stop quest | |