Spoiler Alert!
THIS IS A DRAFT AND NEEDS CLEANUP: Please note that the information on this page is currently under construction and thus incomplete.
Quest Character: Carne Asada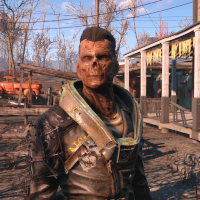 Written by: Sephira Jo
Voiced by: Dan Garsa
You will see Carne Asada in one of your settlements.
Talk to him if he doesn't approach you.
He will ask you to get his Chem Stash from some raiders.
Follow the quest marker to the location.
Deal with the raiders there.
Find his stash in a container.
Return to Carne.
He will join the settlement of your choice.
Carne Asada is a Unique Settler.
The location of his stash will be at a random location.
¶ Quest ID: SS2_CharacterQuest_CarneAsada_RandomDungeon
| Stage | Description | Log Entry |
| --- | --- | --- |
| 1 | Quest started | |
| 5 | Stash acquired | |
| 10 | Quest completed | |
| Stage | Description | Log Entry |
| --- | --- | --- |
| 10 | Quest declined initially | |
| 20 | Quest Accepted | |
| 40 | Stash acquired | |
| 42 | Told about pay | |
| 43 | speech check 1 passed | |
| 44 | speech check 2 passed | |
| 45 | speech check 3 passed | |
| 46 | speech check failed | |
| 50 | Quest turned in | |
---