**Spoiler Alert!
Quest Character: Darsenia 2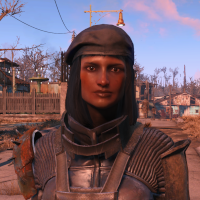 Written by: Laughing Otter
Voiced by: Stef Clendenen
Darsenia will approach you in or near one of your settlements.
She has been injured, admits she is a synth and needs your help finding spare parts from a Courser so she can repair herself. You can decide whether to help her, or decline.
Follow the quest marker to a small camp.
Deal with the Courser and synths.
Retrieve the spare parts from the Courser.
Return to Darsenia.
She will join the settlement of your choice.
The Courser may call for friends.
Darsenia 2 is a Unique Settler.
| Stage | Description | Log Entry |
| --- | --- | --- |
| 1 | Quest started | |
| 2 | Quest running | |
| 7 | Player says they hate synths | |
| 9 | Player declines to help | |
| 12 | Player asked for reward | |
| 15 | Player has objective | |
| 20 | Player learned about past | |
| 30 | Player has spare parts | |
| 40 | Quest turned in | |
| 50 | Darsenia sent to settlement | |
| 100 | Darsenia dead | |