Spoiler Alert!
Quest Character: The Ventilator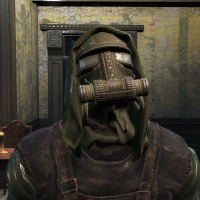 Written by: CornedBeefHashtag
Voiced by: James McLauchlan
The Ventilator asks that you locate a special robot for him. In exchange, he will provide your settlement with quality water production.
Search for the robot at The Bottom Feeder.
Search for a clue to find the robot. You will find a note pinned to a door with a combat knife. Read the note.
You will be attacked by synths.
Search the synth bodies for clues.
On one of them you will find a holotape.
View the "Reclamation Mission 37" holotape.
Search Diamond City for the robot.
Find the DC Security Incident Report on the counter at Power Noodles. Read the report.
Check at Diamond City Security.
You will find a holotape "Mr. Handsy Evidence". Play the holotape.
Search for the robot in the scavver's camp.
Deal with the scavengers and synth ambush.
Find and activate/pick up the Mr. Handy box.
Return to The Ventilator.
The Ventilator will join the settlement of your choice and leave the robot, Mr. Handsy, with you.
Talk to Mr Handsy to activate the next quest.
Next Quest: Handful of Caps
The Ron gives you The Ventilator's location as one of the settlers you can recruit for your settlement.
The Bottom Feeder (a brothel) is located near the Mass Bay Medical Center.
The Ventilator is a Unique Setter and unlocks an advanced plot.
Mr Handsy is a Unique Settler.
Stage
Description
Log Entry
1
Quest Started
2
Verified running
5
Initially Declined
10
Quest accepted
20
Read Note
25
Search Synth Bodies for Clues
30
Found Holotape
31
Read Holotape
40
Found Power Noodles Note
50
Found Marv Holotape
60
Listened to Marv Holotape
70
Recovered Handy Box
80
Returned to Ventilator
90
Mr Handsy Unboxed
100
First Scene Complete
110
Quest complete