Quest Characters: Cleff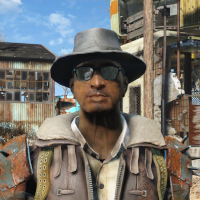 Written by: Kefke Wren
Voiced by: Paul Warren
Cleff will greet you in one of your settlements by your Railroad handle.
He has a personal mission request for you and gives you a holotape.
Follow the quest marker to the green Cabin.
You will need expert lockpicking skill to open the door, or a companion with that skill.
Kill the snyths inside.
Load Cleff's Modified Holotape into the terminal.
Give it time to download the data.
Eject the holotape and return to Cleff.
Cleff will need a few days to decrypt the data.
Your Pip-Boy will let you know when to check in with him.
When you speak to Cleff, he will tell you about the results, and join the settlement of your choice.
Cleff is a Unique Settler.
| Stage | Description | Log Entry |
| --- | --- | --- |
| 1 | Quest Start | |
| 2 | Quest verified running | |
| 5 | Initially declined | |
| 10 | Quest offer reached | |
| 20 | Quest accepted | |
| 30 | Holotape used | |
| 40 | Turned in quest | |
| 50 | Timer finished | |
| 60 | Cleff a settler | |