Spoiler Alert!
THIS IS A DRAFT AND NEEDS CLEANUP: Please note that the information on this page is currently under construction and thus incomplete.
Quest Character: Paige Hunter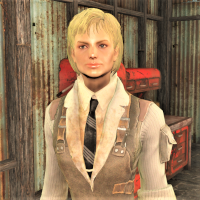 Written by: Apokolypto
Voiced by: Kemi Haydee Stanton
Paige will appear in your settlement.
When you talk to her, she will tell you about herself and then ask to join.
Select a settlement for her.
Paige Hunter is a Unique Settler.
This character does not have a quest, but is fully voiced as a unique settler.
| Stage | Description | Log Entry |
| --- | --- | --- |
| 0 | DEBUG START STAGE | |
| 100 | PLAYER REJECTED OR ABANDONED NPC | |
| 1000 | PLAYER INVITED NPC INTO SETTLEMENT | |