Spoiler Alert!
Quest Character: Frenchy Jr.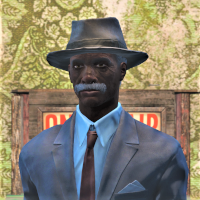 Written by: LaidBackNinja
Voiced by: Gabriel Long
You will see Frency Jr. in one of your settlements.
Approach and talk to him.
He asks you to record Magnolia at The Third Rail in Good Neighbour.
He gives you a blank holotape.
Record Magnolia.
Return to Frenchy Jr.
He will join the settlement you select for him.
To record Magnolia:
a. wait until she starts a new song.
b. Put the blank holotape in your Pip-Boy.
c. Select Record and wait until the song finishes.
d. Your Pip-Boy will tell you when the recording is completed.
Frenchy Jr. is a Unique Settler
More Than Words - Veta Phoenix
| Stage | Description | Log Entry |
| --- | --- | --- |
| 1 | Quest started | |
| 10 | Met Frenchy | |
| 15 | Has Objective | |
| 20 | Started recording during a song | |
| 25 | Song finished | |
| 30 | Turned in holotape | |
| 40 | Settlement chosen | |