Spoiler Alert!
Please note that the information on this page is currently under construction and thus incomplete.
Quest Character: Joe Lawson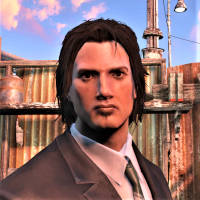 Written by: Apokolypto
Voiced by: UncagedElk
Joe Lawson will approach you at one of your settlements.
He originates from a Diamond City old wealthy family and wants to manage a settlement for you.
Go through the conversation options with him. If you want to accept his services, select a settlement for him.
Meet him at the settlement you picked for him. To assign him as mayor, assign him to the City Planner's Desk, if you wish. However, a leader card for him has not been implemented yet so he does not have any Leader Traits.
This character does not have a quest, but is fully voiced.
Joe Lawson is a Unique Settler and may also be assigned to a plot.
| Stage | Description | Log Entry |
| --- | --- | --- |
| 0 | DEBUG STAGE-START GAME ENABLED | |
| 900 | NPC REJECTED FROM SETTLEMENT | |
| 1000 | NPC ACCEPTED INTO SETTLEMENT | |