Spoiler Alert!
Please be advised that this page is under construction and incomplete.
Quest Character: Benni Strong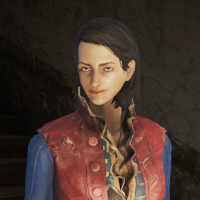 Written by: Sephira Jo
Voiced by: Abigail Wahl
If you have met all of the requirements for Benni Strong, you will find her on the second floor of Hotel Rexford.
She will ask for your assistance getting her art supplies, and marks the location for you in your Pip-Boy.
Enter the Art Studio.
Kill any ferals that you encounter.
Search for art supplies, 15 are required. (There will not be markers on them.)
When you have 15, return the supplies to Benni.
You will be able to assign her to a settlement.
Benni Strong is a Unique Settler.
Supplies that can be found are: paint brush, small canvus, can of paint
| Stage | Description | Log Entry |
| --- | --- | --- |
| 1 | Quest started | |
| 2 | Quest verified running | |
| 5 | Quest initially declined | |
| 6 | Long version heard | |
| 10 | Quest accepted - Make doors accessible | |
| 20 | Art supplies acquired | |
| 30 | Turned in supplies | |
| 40 | Benni a settler | |