Spoiler Alert!
THIS IS A DRAFT AND NEEDS CLEANUP: Please note that the information on this page is currently under construction and thus incomplete.
Quest Character: Carl Meade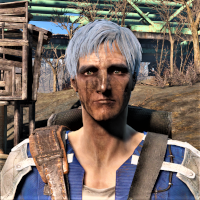 Written by: Laughing Otter, Danger
Voiced by: Bigcowfeet
Carl Meade arrives in your settlement.
If you approach him, he will greet you and discuss his plan to domesticate feral ghouls. He gives you an injector with 5 tranquilizer darts to put a feral ghoul to sleep.
First, help Carl build a clinic on a commercial lot.
Place a commercial plot and select a building plan for a clinic.
You may need to assign Carl to the plot.
Wait until the clinic builds.
Tranquilize a feral ghoul.
Return to Carl.
He promises that in 5 days, you will have a domesticated feral ghoul that follows orders.
If you tranquilize the feral before the clinic is built and Carl assigned, when you return to Carl, he will say that the team that went out to collect the feral did not find one. Maybe it woke up.
If you run out of darts, you can return to Carl and ask for more darts. He'll give you 5 more.
Carl Meade's tranquilizer darts can also be crafted at a chem workbench after the quest has started.
Carl Meade is a Unique Settler.
| Stage | Description | Log Entry |
| --- | --- | --- |
| 1 | Quest started | |
| 2 | Quest verified running | |
| 5 | Initially declined | |
| 8 | Give Syringer and Darts | |
| 10 | Quest accepted | |
| 15 | Carl assigned to Clinic | |
| 20 | Feral tranquilized | |
| 30 | Turned in | |
| 40 | Carl a settler | |