Spoiler Alert!
Quest Character: Foggy Winters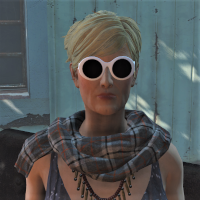 Written by: Apokolypto
Voiced by: Ginger Roll
Foggy Winters will appear in your settlement, or you may get a Potential Recruit lead to her from The Ron if you ask for someone with high Charisma.
Talk to her. She will ask to join your effort.
Assign her to a settlement.
Foggy Winters is a Unique Settler.
A quest will not appear in your quest journal unless you receive a lead from The Ron to recruit her.
Foggy Winters Recruitment - Veta Phoenix
| Stage | Description | Log Entry |
| --- | --- | --- |
| 0 | START STAGE | |
| 900 | NPC Rejected From Settlement | |
| 1000 | NPC Accepted Into Settlement | |