Spoiler Alert!
Please note that the information on this page is currently under construction and thus incomplete.
Quest Character: Ed Rocke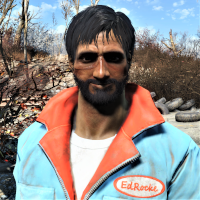 Written by: CornedBeefHashtag
Voiced by: UncagedElk
Near or visiting the Red Rocket settlement, you will see Ed Rocke.
When you talk to him, Ed asks you to find his friend, RT. He gives you his Red Bandana so that RT will know that he sent you.
Follow the quest marker to the Red Rocket in Lexington. You will see some hooligans hanging out there.
Find a way to get into the cellar.
In the cellar, you will find more hooligans and a dog fight in progress.
Rescue RT.
Present Ed's Red Bandana to RT.
Return to Ed Rocke.
You can ask Ed for his story, ask him what work he can do and he asks to stay at the Red Rocket, but is willing to work at any of your settlements.
Ed Rocke is a Unique Settler.
His faithful companion, RT will become part of your settlement also.
The Lexington Holligans at the Red Rocket are not hostile. You will need to pick pocket the one with the key to the cellar, kill and loot them, or pick the lock on the cellar to enter.
| Stage | Description | Log Entry |
| --- | --- | --- |
| 1 | Quest started | |
| 2 | Quest verified running | |
| 5 | Initially Declined | |
| 10 | Quest accepted | |
| 20 | RT Found | |
| 21 | RT Rescued | |
| 22 | Player unlocked an arena gate | |
| 30 | RT Sniff | |
| 40 | Quest Complete | |