Spoiler Alert!
Quest Character: Lacey Buckles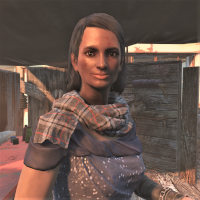 Written by: CornedBeefHashtag
Voiced by: Ezra J. Wayne
In one of your settlements, you will be approached by Lacey Buckles.
She tells her tale of being a clothing merchant in Diamond City and wants you to retrieve her rental deposit from the Major.
You can ask her for more details.
Go to the Mayor's office in Diamond City and follow the quest marker to find her deposit.
Return to Lacey.
She will join a settlement of your choosing.
Additional rewards are given when the quest is completed: a settlement decoration, "Batter Up Buttercup" and a new building plan for a clothing store, Lacey's Buckles
Lacey Buckles is a Unique Settler.
Buckle Up, Buttercup - Veta Phoenix
| Stage | Description | Log Entry |
| --- | --- | --- |
| 1 | Quest started | |
| 2 | Quest confirmed running | |
| 5 | Player denied Lacey's request. | |
| 10 | Accepted quest | I need to find Lacey's Batter-Up Buttercup which is somewhere in the Mayor's Office complex. |
| 20 | Acquired item | I've recovered Lacey's Batter-Up Buttercup. I should return it to her. |
| 30 | Turned in item | I've retrieved the security deposit like Lacey asked and she has decided to join me at a settlement. |
| 40 | Complete | |