Spoiler Alert!
Quest Character: Isaiah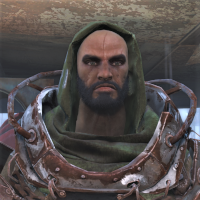 Written by: ZeroDivision
Voiced by: GreenTBroC
You will find Isaiah in one of your settlements. Talk to him.
He will ask you to kill some raiders at a random location and look for jewelry.
Kill the raiders.
Recover the Ornate Locket
Return to Isaiah.
You will be able to find out more information about Isaiah, by asking him questions and more, if your charisma is high enough.
You will be able to decide to return the locket or keep it.
Select a settlement for him.
Bitter Reclamation - Veta Phoenix
| Stage | Description | Log Entry |
| --- | --- | --- |
| 1 | Quest started | |
| 2 | Verified running | |
| 5 | Initially Declined | |
| 10 | Accepted | |
| 20 | Locked recovered | |
| 21 | Raiders killed | |
| 30 | Turn-In Start | |
| 31 | First Charisma Check | |
| 32 | Second Charisma Check | |
| 34 | Gives Locket | |
| 35 | Player Keeps Locket | |
| 40 | Welcomed | |
| 41 | Declined | |
| 50 | Quest Complete | |