Quest Character: O-M-0R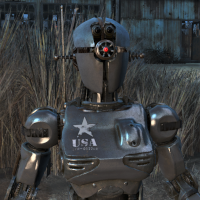 Written by: LaidBackNinja
Voiced by: Stef Clendenen
Voice modulation: Henry Saaiman
You will see O-M-0R in your settlement.
When you talk to her, she will ask you for help with repairs.
Find a fusion core and an Assautron Circuit Board.
Bring these items to O-M-0R. She will need some time for repairs.
Your Pip-Boy will tell you to check in with O-M-0R.
You will be asked to help her make a choice to retain her programming or delete it.
Once you have chosen, you will be able to assign her to a settlement.
| Stage | Description | Log Entry |
| --- | --- | --- |
| 1 | Quest started | |
| 99 | Quest failed | |
| 100 | Quest completed | |