Spoiler Alert!
THIS IS A DRAFT AND NEEDS CLEANUP: Please note that the information on this page is currently under construction and thus incomplete.
Quest Character: Amara Blackmoon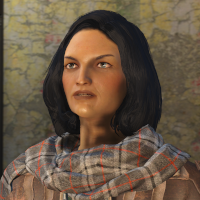 Written by: Sephira Jo
Voiced by: Stef Clendenen
Amara Blackmoon will appear in your settlement. If she does not approach you to talk, talk to her.
She will ask you to deal with a Radstag herd nearby.
Track down the herd.
Kill them.
Place the Tracking Beacon on the Stag. (Transfer it from your Miscellaneous Inventory to the Stag's inventory.)
Return to Amara.
You will be able to assign her to a settlement.
| Stage | Description | Log Entry |
| --- | --- | --- |
| 1 | Quest Started | |
| 3 | PC1 Reached | |
| 5 | Player heard explanation | |
| 8 | Player asked question | |
| 10 | Player has objective | |
| 15 | Player near radstags | |
| 20 | Player killed Stag | |
| 25 | Killed does | |
| 30 | Tagged Stag body | |
| 35 | Returned to Amara | |
| 40 | Amara becomes Settler | |