UNDER CONSTRUCTION
The War Planner's Desk is a piece of furniture that you can use to manage your Outpost in Sim Settlements 2 (like the City Planner's Desk for a Setlement). The desk has a number of features, each of which can be accessed by interacting with different parts of the desk.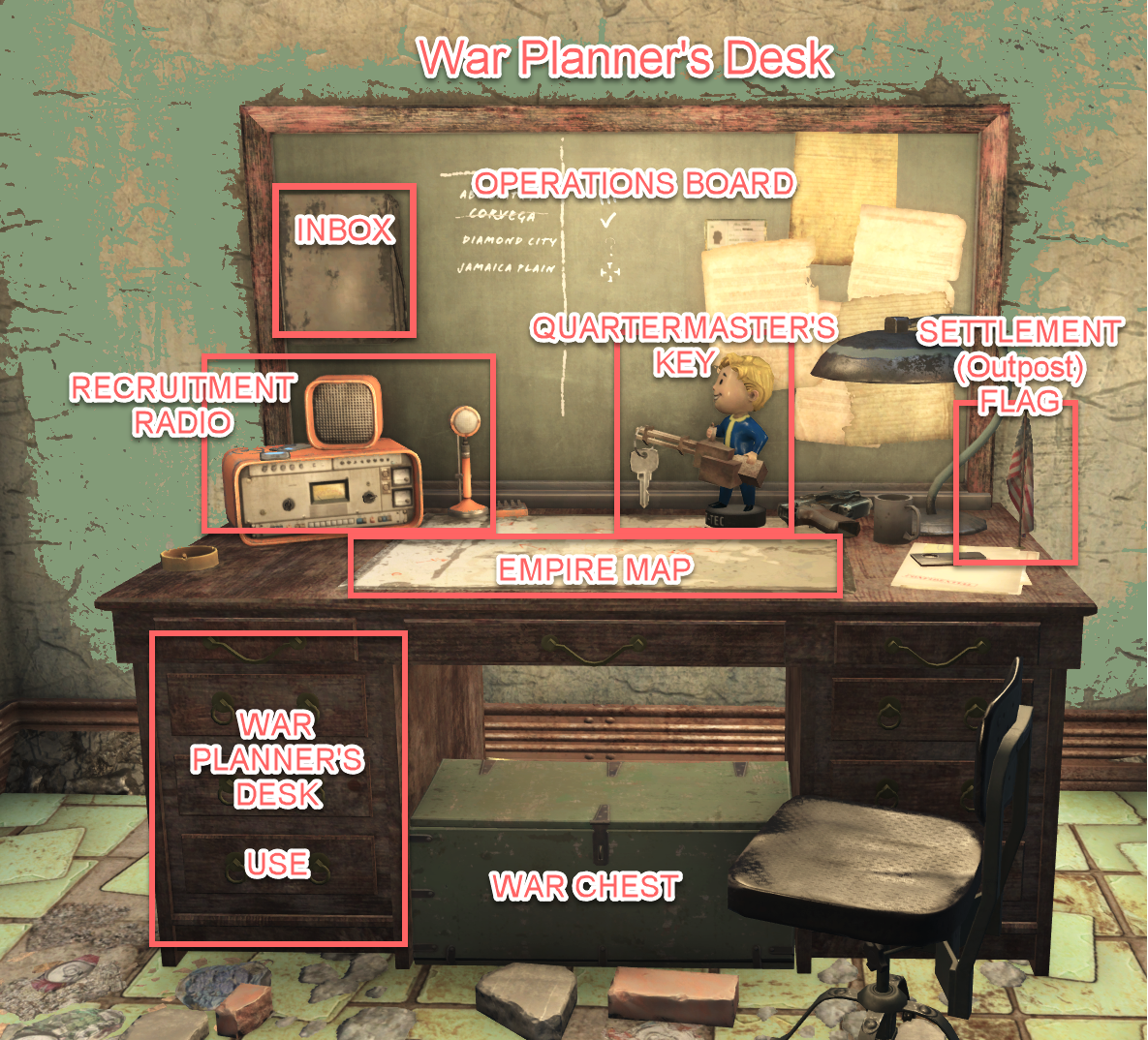 When you first access the War Planner's Desk, Scouting is unlocked.
Scouting allows you to mark Settlements for future operations. As you approach undiscoverd settlements, you'll receive a notification telling you that your map has been updated. Once this occurs, you will be able to launch an assault from an Outpost in range.
Scouting does not add other locations (like Drumlin's Diner) to your map. For those locations, you'll have to "discover" them to launch a Capture Territory Assault, or use the flare gun and binoculars instead.
Currently, there is no reason to assign anyone to the desk.

If you do, it will present you with the following choices:
Yes, Tear It All Down (This will automatically select a City Plan and remove anything that you have built and place a City Plan that will place plots as designed by the City Plan selected -- effectively making your Outpost a Settlement.
No, Nevermind (This is the option that you should select if you have assigned someone to the desk. No changes will be made to the Outpost.)
Future Plans:
We will be able to assign Commanders, who will have Traits (like Mayors) that will provide bonuses that are beneficial to Outposts.
View Notes
From time to time, the Inbox will contain Notes for you.
This is where the reports from Scouting Runs in HQ show up after 24 hours.
Some of the Notes will also start quests.
Battle Reports
Select to view Battle Reports for your Assaults or Raids that have occurred.
The reports will display in note form the same information as the Victory Screen that displays after an Assault.
The Inbox can retain a total of 128 reports.
Your Outpost can launch Assaults when you have enough Warriors (5 are required) recruited to your Outpost.
When Manage Ops is activated, a popup window will display:
Coordinate Assaults
Available Warriors: Number
If you have enough, you can Start New Assault, or
If you do not, Not enough Warriors
Exit
Next, a popup window will display:
What is your goal for this Assault?
Establish Outpost
Make Vassal (Available after you Research Vassalization at Headquarters)
Capture Territory
Selecting an Assault will open a window listing the available Settlements for Establish Outpost or Make Vassal Assaults, or a list of Territories if you selected Capture Territory.
Once you've selected your target, you will be asked to pay some Ammo and confirm you want to do the Assault.
An Assault quest will begin and mark a location for you to join your troops.
The Recruitment Radio can be used to queue up specialized units to recruit.
If none are queued, the Recruitment Beacon will recruit 1 Soldier/Day.
With a Recruitment Center Martial plot in your Outpost, additional Soldiers will be recruited daily (+1 Level 1, +2 Level 2, +3 Level 3).
When the Queue is finished recruiting, you will need to set up the Queue again.
Selecting Manage Recruitment will display a popup window displaying:
Manage Recruitment for [Outpost]
Faction: Faction Name
Potential Recruits Tomorrow: Number
Selecting this will display the Unit you have queued and Queued: Number
Next Unit: Selecting this will display the next Unit you have queued.
Previous Unit: Selecting this will display the previous Unit you have queued.
Queue Unit: Selecting this will queue up another Unit
View Details: To display more information about the Unit selected
View Recruitment Cost: Displays the caps to recruit that Unit
Selecting this will display a popup window;
Recruitment Queue for [Outpost]
Queue Position: Number
Number x [Soldier Type]
Next Queued: Shows you the next Soldier Unit you have queued.
Previous Queued: Shows you the previous Soldier Unit you have queued.
View Details: Will show you more information about the Unit displayed
View Recruitment Cost: Displays the cost of the Soldier Unit queued.
Cancel One of this Unit: Use to cancel the current Unit
Cancel All of this Unit: Cancel all of these Units queued.
Return: Returns you to the previous menu.
Use this option to select the Units you wish to recruit. Currently, there are not many options here. A future update will add more.
On the desk is a blueprint. Hovering over this will bring up the option to Manage Empire.
Selecting Manage Empire will display:
Use to leave the selection menu
Selecting this will display the bonus modifiers for the Outpost that you have gained by capturing Territories.
It will display Controlled Territory: [Territory Location], the bonus and then, the following:
Next Modifier: Use to see the Territory providing a bonus and what that bonus is
Previous Modifier: View the previous Territory and bonus provided.
Exit: Leave View Settlement Modifiers.
Selecting this will display the current Location and Type and the following options:
Cancel
Make Command Post
Convert to Vassal
Dismantle Outpost (convert to normal settlement)
Dismantle Outpost and Abandon Settlement
Use the QUARTERMASTER'S KEY to select your default Loadouts.
An Armory Martial Plot is required.
As your Armory levels up, more Loadouts will become available.
At this time, there are not many Loadouts available. More will be available with future updates.
¶ Ranks and Equipment
Set Military Uniform
Allows you to select a uniform for your Soldiers. By default, the following options are available:
Army Fatigues - Clean
Army Fatigues - Post War
Baseball Uniform
Flannel Shirt and Jeans
Green Shirt and Combat Boots
Military Fatigues
[Clear Uniform] - to remove
Known Issue: Currently, when you select a Uniform for your Soldiers, and assign a Loadout, the equipment for the loadout may not all equip, or the loadout will equip and then switch to only the Uniform, or may only equip the Loadout equipment and not show the Uniform selected at all.
Auto-Equip: ON/OFF
Exit
(Default: ON)
Selecting the flag on top of the desk will open a settlement flag trade window. Use this to select a flag that will be used for your Outpost, and any dynamic flags you build from the sim settlements decoration build menu.
You start the game with the American Flag unlocked.
More flags are unlocked when you join factions.
Flag Packs and sometimes Leader Packs offer many new flag options.
Companion Flags are unlocked when you gain companion affinity. These are available only with SS2 Extended installed.
Faction Flag: Set a flag on the Administration Desk in the HQ Meeting Room. You will get the option to use it in HQ only, all the new settlements and territories, or everywhere, including existing settlements.
Preparing for War: Craft a tutorial holotape to learn about War Mechanics. Each Topic in the Holotape will start a quest for you.
Binoculars: Scout Settlements and Territories to Assault
Flare: Ammo for the Flare Gun
Flare Gun: Use to signal your troops
Packed War Planner's Desk: can be carried in your inventory and dropped in a settlement, useful for those settlements that don't have enough materials to craft a desk
Recruitment Clipboard: Used to Conscript, or Ask to Work (HQ)
Tools: Available Recipes

Packed War Planner's Desk:
Ingredients:
- Circuitry (1)
- Cloth (3)
- Plastic (4)
- Screw (4)
- Steel (2)

Recruitment Clipboard:
Ingredients:
- Cloth (2)
- Lead (1)
- Spring (1)
- Wood (2)
Donate Caps or Supplies to your Outpost.
Some Weapons may not be accepted.
This is because they haven't been added to the eligible weapons.
Induction weapons added by chapter 3 and Institute weapons have been added in a patch.
Handle Resources for [Outpost Name]
You can donate Ammo, Armor, Caps, Chems (Stimpacks, Med-X, Jet, etc.), and Weapons
Donate 100, 250, 500, or 1000 Caps
Only accepts Ammo, Armor, Caps, Chems (such as Stimpacks, Med-X, Jet), and Weapons
You will need to have enough Supplies Storage available. If you do not, your donations will be returned to you.
The game may crash on repeated attempts to donate to a full storage.
To avoid this, make sure you have enough resource storage for supplies. It can be increased by building containers for supplies (lockers and crates from the SS2 Resource Storage menu) in outposts.